MSI MPG Z390 Gaming Edge AC ~ Computers and More
15 min read
The MSI MPG Z390 Gaming Edge AC is here, will it have the much needed edge to race past the competition!?
The new Intel 9th Gen CPUs have finally arrived in yet again another attempt to derail the AMD Ryzen ever speeding momentum train, how good or bad this attempt is a story for another day but as always in case of Intel with a new CPU follows a new range of motherboards and this time isn't different. Behold the new Z390 PCH motherboards that aim to take a notch up from where their predecessor Z370 PCH motherboards had left with integrated 802.11ac and native USB 3.1 Gen 2 support being a standard feature right out of the box obviously leaving it to the board partners to customize it as per their own whims.
Today on the table we have the MSI MPG Z390 Gaming Edge AC, that's one mouthful of a name, which not only holds the latest Edge series tag in the MSI lineup but also comes from the Performance series of motherboards hence the MPG in the name. This is MSI first ever Edge series motherboard and aims to fill the gap between the Arsenal and Performance series boards which earlier only started with the Gaming Pro Carbon series of boards. MSI has launches three variants of the Z390 Gaming Edge AC that sport near identical features but different form factors namely as the Z390M Gaming Edge and the Z390I Gaming Edge which are mATX and mITX respectively while the one we have today is a full ATX motherboard.
Priced in at $190 or ₹17,800 in India the MSI Z390 Gaming Edge AC is the second to the top in their Performance series of motherboards second to the MSI Z390 Gaming Pro Carbon. Loaded with integrated WiFi and Bluetooth 5.0 support hence the name AC this motherboard looks at delivering great performance and subtle looks by compromising upon abundance in RGB to keep the cost down.
What's in the Box!?
MSI has gone with an entirely new color scheme and theme for the MPG Z390 Gaming Edge AC motherboard lineup with purple, magenta and blue being the predominant colors on the box with a prismatic finish which would continue to the motherboard too. On the front side we get nothing but a big chunky product name with the MSI logo on top left side and supported Intel technologies printed on the the top right corner. Over all its a simple and to the point packaging.
The back unlike the front is printed to the brim with features! A
detailed marked diagram of the motherboard is printed in one corner
highlighting all the physical features and on the right we see features
such as the Mystic LED, Twin Turbo M.2, USB 3.1 briefly explained.
Open the box and you'll find the motherboard in an anti-static bag
resting on top of the bottom compartment that houses all the
accessories.
On the accessories front the MPG Z390 Gaming Edge AC is quite humble yet
provides all the accessories needed to get one started. We have a User's manual, Cable labels, Driver and
utility DVD, MSI decal, Quick installation guide, Registration insert, SLI HB
Bridge, I/O Shield, Two SATA cables, 2 x WiFi Antennae, Screw for PCIe card,
Rainbow RGB LED Extension cable 80cmand two sets of screws for the M.2 drives.
Closer Looks and Features
MSI went pretty low key with the Gaming Edge AC and we end up with a motherboard which is quite subtle and elegant on the outside but is feature rich on the ground level.
The MSI MPG Z390 Gaming Edge AC is an all black motherboard with trims of grey and silver which is predominately from the use of metal fittings all over the PCB. The black color is not glossy but matte with just a few trims on the IO and PCH heatsinks being exceptions, it is a good thing since I personally don't prefer over shiny motherboards. One thing that I find a bit awkward is the IO headsink is quite big and extended but fails to cover the audio jacks and Intel wireless NIC which neither has any technical advantage nor cosmetic. The only viable reason can be that MSI did so to make space for the top most M.2 SSD in case on goes for a 110mm one but still that could've been easily tackled if they'd replaced the second PCIex1 slot with the M.2 port hence making clearance for a full length IO head spreader.
Looking at the CPU socket area we realize that it is extremely clean and
specious with ample space to accommodate big air coolers aswell. The
socket right in the middle is a LGA1151 which is the same as that on the
previous generation Z370 and like boards. This makes the previous Gen Intel CPUs compatible with the new generation motherboards.
DIMM slots on the Z390 Gaming edge AC are non-reinforced and are normal plastic slots with no additional metal shields that provide extra tensile support and EMI shielding to the RAM sticks. MSI has opted for this implementation to cut down the cost and also to reserve the premium features for their Gaming Pro Carbon series. On the bright side we get LED indicators on the DIMM slots that light up white when the RAM stick is properly inserted hence making it easy to troubleshoot common issues.
These support a maximum of 64GB DDR4 memory kit working at a maximum
frequency of 4400Mhz. Also the mounting mechanism is changed and both
the locking brackets need to be opened prior to DRAM installation.
For storage MSI has provided six SATA III connectors on the side and no vertical SATA ports near the PCH is present this time which we are used to from MSI on most of their motherboards. The sole benefit of this implementation is that the user can now use all six SATA ports without having to worry about any one or two getting disabled when more ports are populated than the on-board controller can handle, making it hassle free for the end user since its a Performance category motherboard and not Enthusiast. A USB 3.0 port for the case front IO is also provided right next to the SATA ports fro better and easy wire management which is a simple yet much needed move.
Turn your gaze towards the PCIe area and we see three PCIe 3.0×16 slots
and three PCIex1 slots for devices of a bygone era! Two M.2 slots is
also provided that we'll discuss later on.
Two of the three full sized PCIe slots are armored to support large and
heavy graphics card while the bottom most is partially reinforced with
metal clips for added support giving the board the following
configuration in SLI or CrossFireX –
Single Card: 16x/0/0/
Dual: 8x/8x/0/
Tri: 8x/8x/4x/
A notable fact over here is that in ATX board like this you tend to find
seven PCIe slots in total with four full length and three PCIex1 but in
the MSI MPG Z390 Gaming Edge AC there are only five eliminating the top most
slot. By doing this MSI cleverly managed to shift the DIMM slots down by
half an inch which in-turn cleared out some space in the CPU area and
above it giving one the flexibility to choose from a range of beefy CPU
air cooler without any compatibility issue.
We also see two M.2 ports none of which is shielded
and has 4xPCIe3.0 lanes to it for full bandwidth of 32Gb/s but the one
near
to the bottom has only 2 PCIe lanes making it usable for SATA drives as
in case one uses a NVMe drive they'll only get half the speed there.
On the rear panel, MSI has included two USB 3.1 Gen2 ports which are comprised of a Type-A and Type-C port, two USB 3.0 Type-A ports, two USB 2.0 ports, one PS2 port and WiFi antenna port along with one RJ-45 port & one optical S/PDIF Out connector is
provided. Audio jacks are five in number for a 5.1 channel surround
sound experience. There is expansion through internal headers to extend USB support to a further four USB 3.0, four USB 2.0 and an additional single USB 3.1 Gen2 Type-C port.
On the left side of the board we have the Audio Boost 4 technology
powered by a Realtek ALC 1220 5-channel CODEC which is an upgrade to the
ALC 1150 used previously by most of the manufacturers and protect by an
LED illuminated isolation strip to prevent any static distortion. This
arrangement is solidified with gold plated Chemi-con capacitors and
three Texas Instruments OP1562 op-amps to power headphones and provide a
surround sound experience.
The CPU is powered by an 10-phase Military Class-5 power delivery system
controlled by a NIKOS PK832BA PWM controller and constituted of
10-years rated Titanium Choke and Black Caps. This is not an all digital
power delivery system but a reliable one for sure. Since the new Intel 9th Gen CPU especially the i9-9900K is one power hungry beast this seemingly 10+1 phase power delivery system is infact a clever implementation where five phases are assigned to the CPU and doubled using MOSFETs and one single phase is assigned to the iGPU on the processor which is a solid implementation and should be enough to hold high overclock and power deliveries through the 8+4 EPS CPU power connector rated at a massive 540W power delivery.
VCore and VccGT phase are handled by a uP9521P 3+2 phase PWM controller
on this motherboard which is a good configuration and I expect to see
some impressive and stable overclocking results delivered by the Z390 Gaming Edge AC.
The VRM MOSFETs are cooled by ceramic headsinks out of which the one bearing the Edge logo and on the IO side is extended and fully made of ceramic and not plastic to effectively cool the components under load. I expect decent temperatures here considering the physical size of these heatsinks and so will be keeping a close watch on these in our testing section.
Fan speed, I/O activity and even temperatures of various components on
the motherboard are managed and channeled via the Nuvoton's NCT6795D
chip. Four ASMedia ASM1480 multiplexers are responsible for routing the PCIe lanes between the two silver x16 slots in a conventional fashion.
The Intel I219V Gigabit controller is responsible for the LAN functions on the MSI MPG Z390 Gaming Edge AC. While WiFi and Bluetooth is handled by the Intel 9462 802.11ac Wi-Fi adapter which is compliant with the latest Bluetooth 5 connectivity.
BIOS and Bundled Software
BIOS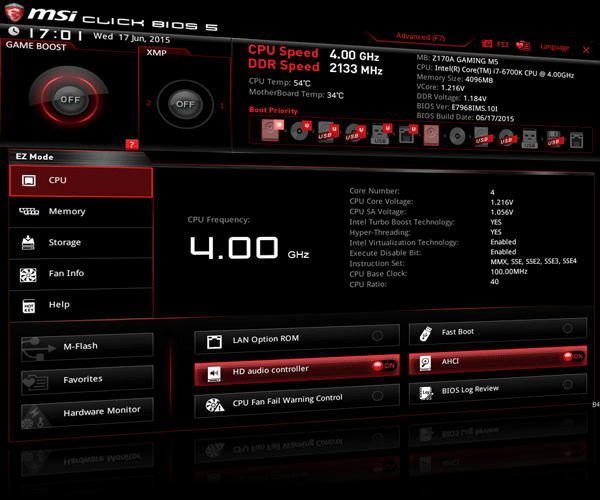 UEFI BIOS is getting more and more common with each manufacturer opting
for it due to its simple and flexible interface along with the option to
navigate via a mouse rather than a keyboard exclusive BIOS. MSI is no
different and has offered not one but two versions of BIOS, EZ and
Advanced versions, with the MSI MPG Z390 Gaming Edge AC so as to suit every customer's needs.
On boot up by default you'll be greeted with a more comprehensive and
detailed EZ BIOS screen. This is a crammed up screen that has the
details about all the components installed on the board along with
options laid out neatly under clear tabs on the left side. If you want
to change fan speeds, maybe boot devices, or use its automated
overclocking function or XMP, you can do so quickly and easily.
This is a much preferred version for the beginners and though it comes
with a Game Boost Knob on the top left its useless since the Gaming Pro
Carbon doesn't support this feature. I personally loved the "Memory Try
It!" feature which comes with pre-sets to overclock your memory on the
fly & are quite useful for everyone as it doesn't over feed the RAM with voltages unlike auto OC features for CPUs that tend to be infamous for proving voltage in surplus.
On pressing the F7 key you'll be teleported into the Advanced BIOS
version or the traditional MSI UEFI BIOS version. This is a version that
all the over clockers will love since the settings are broadly laid out
with tab heading like Over Clocking Settings itself. A plethora of
features are there out of which I'm showing you a selective few.
Bundled Software
MSI with the Z390 series has replaced its former Command Center with a new all in one utility called Dragon Center that tends to bring all the MSI suits together as one except for Mystic Lights which still tends to be a stand alone utility. The Dragon Center allows one to take control over hardware monitoring, overclocking and tuning the fan settings as per the clock and saving them into respective profiles for easy fetch in future and also controls gamma and other monitor related settings which were earlier handled by MSI Gaming App. Also one can now control the graphics card's fans and even cool it down immediately with one click provided its a MSI graphics card. I like it that finally MSI has come up with an all in one utility for its users which makes it easy to use and also avoids unnecessary cluttering of the desktop space with a bunch of applications.
Mystic Lights has undergone an overhaul itself which now looks much more premium and has more functions built into it than before. The customization for the motherboard lights are plenty but not so much for RAM, Graphics Cards or Mouse/Keyboard. I was pleased to see that the utility worked quite nicely with the ADATA Spectrix D80 that we'll be using for the review today and even controlled my Corsair K95 RGB Platinum keyboard along with the Corsair Glaive RGB mouse, though it offered less customization so its better one sticks to the iCUE software till MSI works on bringing more options on board.
Benchmarks and Overclocking
Putting all the components together and booting up into Windows was a
breeze with the MSI MPG Z390 Gaming Edge AC. Everything worked properly
and installed swiftly without any issue. The motherboard looks elegant
and all black when off or when the LEDs are turned down ensuring no
hindrance with the glow and appearance of the motherboard LEDs
whatsoever.
For the benchmarks we used the following test setup configuration —
Booting into Windows was easy and the motherboard did so without any issues, the i5-9600K worked at rated frequency under nice and cool temperatures even under full load. Our memory worked flawlessly at both its rated XMP profiles of 2666Mhz and 3600Mhz but for the benchmark we'll stick to 3600Mhz only. VRM temperature remained in the upper 50°C and went all the way upto 60°C when under full load for over ten minutes or so but were saturated at that only which isn't something to worry about.
For the overclocking the 9th Gen CPUs tend to be more power hungry than their predecessors and my aim was to reach 5.2Ghz with this chip but sadly the system crashed immediately upon putting any load even at 1.35v above which its not recommended as the temperatures were already too high and it can cause silicon degradation. So I finally settled for 5.1Ghz at 1.34v which is acceptable & even with the pump and fans at full speed on an open bench I got a maximum of 96°C on the package at one instance! Over all the power delivery system on the MSI MPG Z390 Gaming Edge AC is competent and can hold good clocks on the power hungry Intel 9th Gen CPUs.
AIDA64 Cache & Memory Benchmark
AIDA64 Extreme Edition is a great tool to bench your CPU and RAM in
terms of their read-write-copy abilities. Our i5-9600K showed an
impressive score along with the XPG Spectrix D80 kit.
AIDA64 GPGPU
The reason for including this benchmark was to simply observe the AES
and Hash Test which is a determent of how easily your CPU or GPU can
crunch complex calculations and higher score is always regarded better.
7-zip
7zip is a compression and decompression program that utilizes the
processing power of the CPU alone. It is a synthetic benchmark that
gives results very close to real life scores.
Cinebench R15
Cinebench uses Maxon's Cinema 4D engine to render a photo-realistic
scene of some shiny balls and weird things (we miss the motorbike). The
scene is highly complex, with reflections, ambient occlusion and
procedural shaders so it gives a CPU a tough workout.
As Cinema 4D is a real-world application – used on films such as
Spider-Man and Star Wars – Cinebench can be viewed as a real-world
benchmark.
wPrime v2.10
wPrime is a leading multithreaded benchmark for x86 processors that
tests your processor performance by calculating square roots with a
recursive call of Newton's method for estimating functions.
SuperPi Mod 1.5
SuperPi is a simple program that utilizes the processing power and
memory speed of the system to calculate the value of Pi upto 1 Million
or 32 Million decimal point depending upon what you choose. The time is
calculated in minutes and seconds, we'll take them both in seconds, so
lower the score faster is your computer.
3DMark Fire Strike & Time Spy
Fire Strike by 3D Mark is a test suit that plays a cinematic scene to
determine the FPS, GPU temperature and CPU temperature scaling
everything via a cumulative score. It is a great tool to benchmark your
GPU since the render is GPU dependent.
CrystalDiskMark 5.0.2
Corsair Neutron XTi 480GB SATA SSD
Kingston A1000 240GB NVMe M.2
Crystal Disk Mark is a disk benchmark software that analyses different
types of hard drive. Giving sequential benchmark write and read
statistics in MB/s. A simple program that is very useful.
Rise of the Tomb Raider
Its old but still extremely effective to benchmark and one of my
personal favorites. Using DX12 the settings are set to Very High preset
at 1080p resolution with the graphics card set to stock with no
additional tweaks be it manual or through the provided utility.
Assassin's Creed Odyssey
The latest installation of Assassin's Creed is set in ancient Greece and the toll
that it takes on the graphical engine and CPU is heavy in fact its
strong enough to brings down most of the modern rigs on their knees. The
quality is set at Ultra High preset at 1080p.
Shadow of the Tomb Raider
The latest installation in the Tomb Raider series with Lara Croft and the game obviously looking better than ever before. Its a DX12 only title which makes it both graphics intensive and taxing on the graphics card and the CPU alike. Benchmarks are done using the built in utility for homogeneity and settings are set Highest on 1080p
My Verdict
Alright so before I move forward lets keep this thing clear that the Z390 chipset is there to replace the older Z370 chipset mainly due to the eight core power hungry juggernaut the Intel i9-9900K since the older board's power delivery system were not designed to feed such power hungry chips, though some boards might hold up with the i9-9900K but that would be just barely and overclocking is something that one should stay away in such cases. Owners looking at the 9th Gen i7 CPUs or the i5-9600K that we tested today can stick to their old motherboards with a simple firmware and BIOS update.
Talking about the motherboard manufacturers like MSI well they have done a splendid
job when it came to designing & revamping the motherboards. The MSI Z390 Gaming Edge AC is a breath of fresh air and its worth mentioning that MSI has
been constantly changing and evolving their motherboard lineup which this time comes in the form of a totally new motherboard with a new theme and look. The Z390 Gaming Edge AC has an entirely new
design which is infact a refined version of the Arsenal
which is a beautiful motherboard in its own right.
MSI cleverly ditched the redundant SATA express and U.2 connector to
implement dual M.2 connectors along with fully functional tri PCIe slot
configuration with a bunch of USB 3.1 ports all working at the same time
thanks to the brilliant use of the PCIe lanes that the Z390 PCH and Intel CPU has to offer. Overclocking wise the motherboard offers enough
VRM to keep the CPU steady at a very respectable frequency provided you
have the cooling solution to keep dissipate all that heat the CPU
generates when locked at all cores. On the down side the motherboard
does lack some vital on board
buttons or indicators such as a Debug LED which is vital to almost ever
user. But this can be overlooked as its aimed at performance and not enthusiasts but the absence of M.2 shields is a gripe that I'll hold since at this point of time and the price we pay for this board it kind of looks empty without a shield.
The LEDs though minimal are yet again meticulously implemented by MSI on a pure black
board and nifty features such as Memory Try it! in the BIOS are a
welcome move. For a motherboard that costs around $190 and replaces the Z370 Gaming Pro Carbon the Z390 Gaming Edge is an aptly priced motherboard which offers everything that one might expect at this price point, if its his new build and not an upgrade from the last generation board obviously.
"MSI MPG Z390 Gaming Edge AC has an Edge over others in terms of balance between much
needed features, distinctive yet elegant looks and to the point
pricing. Highly recommend to anyone who's willing to buy the new Z390
platform without blowing a hole in their pocket!"
Pros –
Elegant Looks
Handles overclocking well
Solid build quality
Aptly Priced
RGB implementation is subtle and effective
Has WiFi and Bluetooth
Cons –
Doesn't have any M.2 shields
Heatsink on the IO panel looks incomplete
I give it a 8/10 earning our Gold Award!